Description
Dom Pérignon 2009 Luminous Bottle
Chardonnay, Pinot Noir | Alc: 12.5% – Rich and Creamy
Champagne, France
Winemaker's notes:
Dom Pérignon was one of the very first producers to assemble wines starting with the grapes, as well as the first to master the production of white wines from red grapes to achieve a giant leap forward in quality. Made exclusively from Chardonnay and Pinot Noir grapes from ten Grand Cru vineyards and from the oldest vines at the Abbey of Hautvillers, Dom Perignon is produced only in exceptional vintage years.
On the nose: Notes of guava and spicy green grapefruit zest combine with stone fruit: white peach and nectarine. The wine opens up, with the whole complemented by woody vanilla and warm, lightly toasted brioche.
On the palate: The fruit is majestic: ripe, fleshy and profound. Beyond the richness and a certain voluptuousness is a strong impression of consistency that prevails. The wine's power is remarkably restrained. The various sensations – silky, salty, sappy, bitter and briny – converge and persist.
Food Pairing: Dom Pérignon Vintage 2009 is a wine that needs to be excited. It needs a framework, it appeals to be stretched with contrasts.
The champagne reaches out to the "vegetable" and "mineral" worlds, calling out by sea urchin carbonara with cardamom mousse. It works brilliantly when it has something to chew on: octopus marinated in Sicilian orange juice and roasted in butter.
Dom Perignon Vintage 2009 is exotic: its tactile thickness, its roundness, and its utterly unique depth of flavor.
In the 17th century, Dom Pierre Pérignon, the cellar master of the Abbey of Hautvillers in Epernay, developed a wine whose extraordinary quality would make him the spiritual father of Champagne and one of the great visionaries of the winemaking world. Dom Perignon longed to produce the "best wine in the world" and there is much written testimony to the success of Dom Pérignon's wine with the most noble and wealthy personalities of the era.
How does this bottle glow?
Look for a small switch in the punt of the bottle which, when flicked on, should provide between 8 to 10 hours of luminescence of this unique bottle.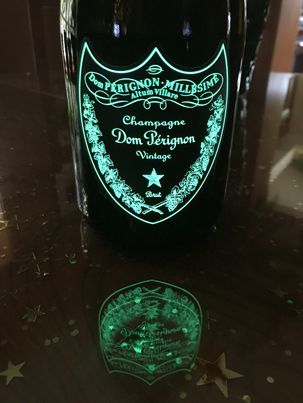 This 2009 vintage is best savored at the ideal temperature of 50℉.
Critical Acclaim:
"This is a DP that shows the ripeness of the 2009 vintage yet remains full of energy. Gorgeous aromas of cream, apple, mango, honeysuckle, and chalk follow through to a full body and super fine, tight texture. Dense and agile. Vinous. It's like a top grand cru white Burgundy. Think Batard-Montrachet. More depth than the 2006."  97 Pts – James Suckling
"Unbroken sun through August and early September helped to shape an idyllic harvest, on 12th September. Superb maturity of fruit in flawless health has produced a wine with wafting scents of both fresh and confit of spiced lemon and wild cherry. Despite the heat, the wine has freshness, vitality and length. Still a youngster, this will grow greatly by 2019. A more stylish son of the '03, and cousin of the slender and charming '06. Disgorged June 2016."  96 Pts – Decanter
"There's a subtle power to this graceful Champagne, which boasts a firm, crystalline frame of acidity married to the fine, satinlike mousse and notes of white raspberry, brioche and Earl Grey tea. Seamless through to the long finish of smoke and spice accents, this opens beautifully in the glass. Drink now through 2029."  96 Pts – Wine Spectator
"Aromas of fresh brioche, green pear, waxy citrus rind, iodine and subtly autolytic top notes mingle in an inviting bouquet, introducing the 2009 Dom Pérignon. It's a medium to full-bodied, broad and fleshy wine that's rich and textural, with good concentration and lively acids despite being the ripest rendition in the history of this cuvée. As I wrote earlier this year, while the wine is open and enveloping, there's also enough energy and structure here to promise good mid-term aging potential, something that becomes more apparent as the wine loses a little puppy fat."  93 Pts – Wine Advocate
Tipsy Knitter Wines – Your Seattle based, online wine shop