Description
Dom Pérignon 2008 Luminous Bottle
Chardonnay, Pinot Noir | Alc: 12.5%
Champagne, France
Winemaker's notes:
Dom Pérignon was one of the very first producers to assemble wines starting with the grapes, as well as the first to master the production of white wines from red grapes to achieve a giant leap forward in quality. Made exclusively from Chardonnay and Pinot Noir grapes from ten Grand Cru vineyards and from the oldest vines at the Abbey of Hautvillers, Dom Perignon is produced only in exceptional vintage years.
On the nose: The opening bouquet is complex and luminous, a mingling of white flowers, citrus and stone fruit. The overall effect is enhanced by the freshness of aniseed and crushed mint. The final aromas offered by the wine are starting to show spicy, woody and roasted notes.
On the palate: After a long period of reluctance, the wine is finally opening up. There is complete balance between the nose and the palate. Its slender, minimalist, pure, toned, athletic character is now also expressed with warmth. The fruit is pronounced and clear. The vintage's characteristic acidity is remarkably well integrated. Its persistence is mainly aromatic, grey, smoky and highly promising.
Food Pairing: The wine enjoys duality: warmth & freshness, meat & iodine pairings, cooked & raw. Spices enhance and accentuate 2008's effervescence and densify the wine. Dom Pérignon likes playful experiences: culinary art, textures, and matters.
Dom Pérignon liberates the 2008 vintage, freeing it from an over-literal interpretation of the canons of champagne.
In the 17th century, Dom Pierre Pérignon, the cellar master of the Abbey of Hautvillers in Epernay, developed a wine whose extraordinary quality would make him the spiritual father of Champagne and one of the great visionaries of the winemaking world. Dom Perignon longed to produce the "best wine in the world" and there is much written testimony to the success of Dom Pérignon's wine with the most noble and wealthy personalities of the era.
How does this bottle glow?
Look for a small switch in the punt of the bottle which, when flicked on, should provide between 8 to 10 hours of luminescence of this unique bottle.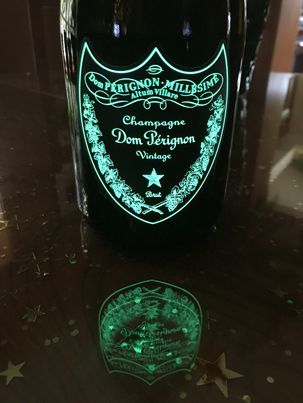 This 2008 vintage is best savored at the ideal temperature of 50℉.
Critical Acclaim:
"The best Dom since 2002. A vintage with very restrained, powerful style that has been released non-sequentially after the 2009. This has a lighter stamp of highly curated, autolytic, toasty aromas than many recent releases. Instead, this delivers super fresh and intense aromas of lemons, grapefruit and blood-orange peel. Incredible freshness here. The palate has a very smoothly delivered, berry-pastry thread with light, sweet spices, stone fruit and fine citrus fruit. This really delivers."  98 Pts – James Suckling
"The 2008 Dom Pérignon is the first time the estate has released a wine out of order (the 2009 was released before the 2008) but the estate loved the wine so much they felt it warranted additional aging. This is a rich, powerful wine that still shows incredible purity and elegance, with a stacked, concentrated feel on the palate. It's rare to find such a mix of ripe, pure, concentrated fruit paired with this level of purity, focus, and precision. This is a legendary Dom that surpasses all the great vintages of Dom I have experience with, including the 1990, 1996, and 2002."  98 Pts – Jeb Dunnuck
"There's power to this graceful Champagne, with the vivid acidity swathed in a fine, creamy mousse and flavors of toasted brioche, kumquat, pastry cream, candied ginger and poached plum that dance across the palate. An underpinning of smoky mineral gains momentum on the lasting finish."  96 Pts – Wine Spectator
"The 2008 Dom Pérignon continues to show very well, offering up a pretty bouquet of Anjou pear, fresh peach, citrus oil, fresh pastry, smoke and iodine. On the palate, it's full-bodied, lively and incisive, with an elegantly textural attack and a creamy core of fruit that's underpinned by a bright but nicely integrated spine of acidity. The finish is long, saline and well-defined. As I wrote earlier this year, this is the finest Dom Pérignon since 1996, Richard Geoffroy's push for additional ripeness working well with the late-maturing, high-acid vintage. While it can be appreciated young, the 2008 will really start to blossom with five or six years of bottle age."  95+ Pts – Wine Advocate
"The super-fresh nose combines notions of smoky flint, lemon and wet chalk, yet hints at generosity. Minuscule bubbles create immense creaminess on a palate that dances on its light feet and channels freshness into poise. There's a promise of future richness and depth, always with ozone freshness and lasting length."  96 Pts – Decanter
Tipsy Knitter Wines – Your Seattle based, online wine shop