Description
Tipsy Knitter | DDF Wines llc is bringing the party to you!
Nothing says Celebration quite like Champagne.  This effervescent beverage is synonymous with happy occasions, and in some cases the drink itself is reason enough for a toast.  As monk Dom Pierre Pérignon is credited with the (perhaps apocryphal) saying: "Come quickly! I am drinking the stars!"
Let us help set up a unique champagne tasting party for your next birthday, anniversary, holiday, or for no other reason than to have the joy of bubbly in your life!
How does a Champagne Tasting Party work?
You choose the venue (your place, their place, the garden, as you wish).

We'll select a champagne set that is compatible with your budget.

Split the price with friends, a cost effective way to enjoy those high end champagnes you've always wanted to try.

Pick up your champagne case in Seattle, or ask about delivery on Capitol Hill. Please refer to our

Shipping

page for information on shipment to other states.

You enjoy the champagnes with friends and family and find your new favorites (hint: they all will be!)
What do I get with my tasting case?
A carefully curated selection of vintage Grand Cru and small grower champagnes recommended for you.

Carefully packaged and efficient delivery to your chosen address.

Fun, easy to understand tasting notes for each bottle, and compelling facts about the Champagne region.

Suggested order of service.

Tasting advice, what to look out for, pointers, and tips.

Suggested food pairings, should you wish to supply nibbles.

Tasting sheets to make your own notes.
What if I don't know much about Champagne?
Champagne parties can be designed for everyone from novice to experienced connoisseur!

We provide champagne background information, plus handy hints to help you get the most from the experience.

We are always available by phone or email!

 

–

tipsyknitterwines@gmail.com
Can someone from Tipsy Knitter | DDF Wines llc host my party?
One of our team members might be available to run tastings located in the greater Seattle area. There is an additional charge for this service, which will vary depending on your location, day, and time.
What if someone at my party wants to order one of the champagnes we tasted?
We would love to hear from them!

We will give all party members a discount on any follow up orders – they just need to mention your name.

All they need to do is give us a ring at

(415) 846-5864

or send us an email –

tipsyknitterwines@gmail.com

.
♥ Previous Champagne parties hosted by Tipsy Knitter Wines ♥:
Chicken + Champers! Bubbly and fried chicken pairing  –  October 2016
Ace of Spades – Hip Hop Champagne Tasting  –  October 2015
Premium Champagne Tasting with Paired Cuisine from Edible Hue – May 2015
Friends, Lovers and Sweethearts Vintage Champagne Tasting – February 2015
A review of Friends, Lovers and Sweethearts Vintage Champagne Tasting from Sommelier Cheri Walters – "To drink Champagne is to connect deeply with the celebrations of humanity from centuries ago.

From the earliest days of Christianity, before the Middle Ages, wine was used to celebrate the Eucharist. The vineyards were then entirely owned by the monasteries. So it was that in 496 AD this traditional use of wine, combined with the particular location of the Champagne vineyards, secured Champagne's place in history. On Christmas day that year, the first king of France was crowned in Reims Cathedral. The bishop who anointed the king was Saint Rémi, himself from a villa surrounded by vineyards not far from what is now Epernay. The wines used in the Consecration were Champagne wines.

Fast forward a few centuries later and from 898 onwards, all of the French kings were crowned in Reims, the capital of the province of Champagne. Champagne wines are said to have flowed freely at the coronation banquets and were prized for their elegance and taste. Champagne wines were from then on offered to any royal visitors to the region.

Champagne remains, for many today, the wine of choice for celebrating life's greatest moments. I was recently at a high-end Champagne tasting hosted by the lovely Dona. A small group of us were able to sample some of the best wines coming out of the Champagne region. These were the wines:

• Marc Hebrart Brut Rosé NV
• Dom Ruinart Brut, 2002
• Dom Perignon, 2004 Illuminated Magnum
• Roederer Cristal 2006
• Dom Perignon, Rosé 2002

It was an amazing evening that was both pleasing on the palate and celebrated with great friends. We were gracefully led through each wine with a little history about each producer. We also had a group discussion after sampling each wine.

I recommend reaching out to Dona to host a high-end Champagne party of your own. They are wonderful for celebrating a momentous occasion in your life, or simply to feel like royalty with several of your closest friends."– Cheri Walters is a trained sommelier through the International Sommelier Guild Diploma Program. She has toured internationally through classic wine regions, and has run wine programs in Seattle.
Please contact us directly at (415) 846-5864 or email: tipsyknitterwines@gmail.com to inquire about having your own special Champagne experience – Cheers!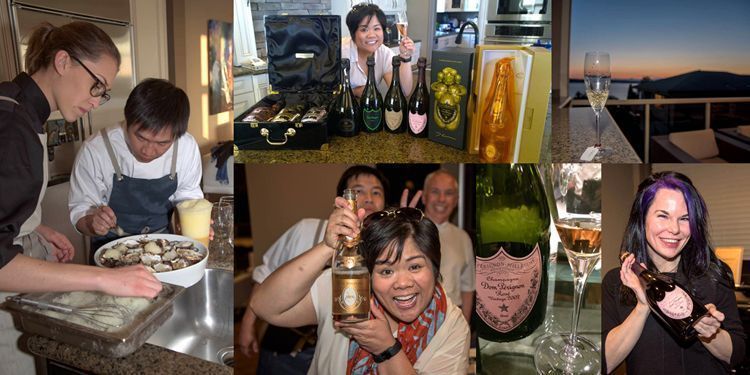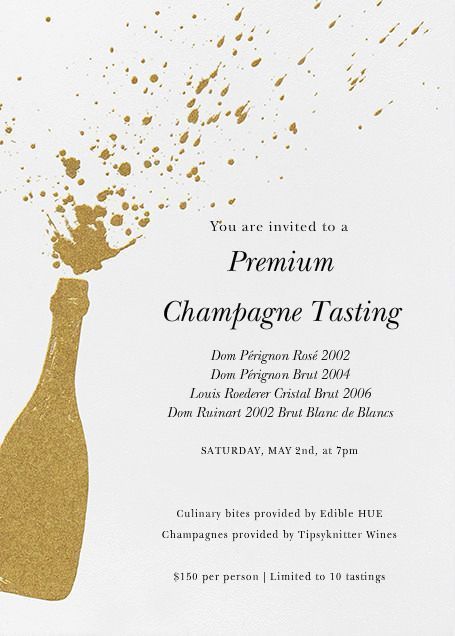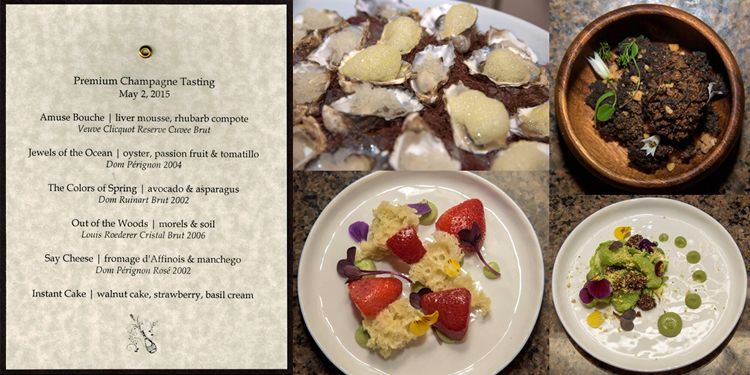 Tipsy Knitter Wines – Your Seattle based, online wine shop